President Trump Blasts Mueller for 'CRIME' of Deleting Strzok-Page Messages
President Donald Trump accurately pointed out Wednesday that former special counsel Robert Mueller — who found no Russia collusion — scrubbed Peter Strzok's's messages to his lovely lover Lisa Page.
"Mueller terminated them illegally. He terminated all of the emails," President Trump told the Fox Business network. "Robert Mueller terminated their text messages together. He terminated them. They're gone. And that's illegal. That's a crime."
BLP reported: Robert Mueller's special counsel's office reviewed Peter Strzok's text messages from during his tenure at the FBI, but those text messages are obviously not going to see the light of day.
By some mechanical manipulation, the text messages for both Strzok and Page are gone, baby, gone, according to a new inspector general's report. The Mueller team is specifically responsible for the scrubbing of the Strzok phone, while the explanation for the Page phone is a bit more muddied.
I'm sure you're all super shocked to find out that Lisa Page's phone was also scrubbed pic.twitter.com/NWV9GQbBTc

Trending: Indian Scientists Discover Hydroxychloroquine Treatment Prevents COVID-19, Vindicating President Trump

— Jordan Schachtel (@JordanSchachtel) December 13, 2018
take our poll - story continues below
Completing this poll grants you access to Big League Politics updates free of charge. You may opt out at anytime. You also agree to this site's Privacy Policy and Terms of Use.
I reported for Big League Politics:
WASHINGTON — More and more details are pouring out about the underhanded conspiracy to damage and impeach President Donald Trump by Obama operatives John Brennan, James Comey, Andrew McCabe, Sally Yates and a few others. The effort even has a special code name: Operation Crossfire Hurricane.
They used Peter Strzok as their go-to guy, which is why their operation is now falling apart. Strzok's massive illegal activities and incompetence could open up the entire Crossfire Hurricane team to numerous federal charges.
Both John Brennan and James Comey used Peter Strzok to damage President Donald Trump. Strzok is the disgraced FBI agent and fired Robert Mueller team member whose text messages with mistress Lisa Page form the biggest scandal in FBI history. The lovers conspired to illegally bring down Trump, all while the FBI was spying on the Trump campaign.
Strzok interviewed Hillary Clinton without putting her under oath, and granted immunity to Cheryl Mills and Clinton's other associates right before he flew to London to meet with Christopher Steele to work on the anti-Trump dossier, which was sponsored by the Clinton-funded firm Fusion GPS. That dossier was used to fraudulently obtain FISA warrants to surveil Trump Tower. Barack Obama read bits of the dossier in his daily presidential briefings, courtesy of Brennan. Fusion GPS, meanwhile, sent operatives into Trump Tower to entrap Don Jr. and Jared Kushner in a meeting with planted Russians.
When it was time for the conspirators to focus on Trump campaign adviser George Papadopoulos, Strzok was there to run information about the adviser to the Australians. When it was time to take out Trump's national security adviser General Michael Flynn, Strzok was there to stage an "ambush" interrogation of Flynn without Flynn's lawyer present.
Let's walk through Strzok's amazing Zelig-like role in every facet of Operation Crossfire Hurricane:
Brennan hired Strzok to write the Intelligence Community Assessment (ICA) in January 2017.
This was an official document used to spur on the Robert Mueller investigation. But the document did not actually find any evidence of collusion between Trump and Russia, it merely said that Vladimir Putin "aspired" to help Trump and that Russia "developed a clear preference for Trump." The Christopher Steele dossier was added as an "appendix" to the ICA report, even though Brennan lied and told Congress that it was never used.
Comey Sent Strzok To London To Meet With The Australians About George Papadopoulos
George Papadopoulos was surveilled in real time by the FBI. Who set him up? Peter Strzok, whose meeting with the Australian ambassador in London provided key basis for the creation of Robert Mueller's investigation, according to none other than the New York Times.
Billionaires Have Made Half a Trillion Dollars While Tens of Millions File for Unemployment
As the number of Americans filing for unemployment approaches 40 million, America's billionaires are cruising along without any worries.
According to a CNBC report, billionaire fortunes climbed by a total of $434 billion since the middle of March,
At the top of the list are Jeff Bezos and Mark Zuckerberg, whose respective fortunes increased by $34.6 and $25 billion, according to the Americans for Tax Fairness and the Institute for Policy Studies' Program for Inequality. Zerohedge noted that both organizations came to this conclusion "based on Forbes data for America's over 600 billionaires collected between March 18 and May 19."
Tyler Durden highlighted the following stats:
take our poll - story continues below

Completing this poll grants you access to Big League Politics updates free of charge. You may opt out at anytime. You also agree to this site's Privacy Policy and Terms of Use.

Percentage-wise, Elon Musk's wealth grew 48% to $36 billion, while Zuckerberg clocked in at 46%. Bezos' wealth grew 31% to $147 billion. His ex-wife, MacKenzie Bezos, saw her wealth increase by roughly 33% to $48 billion. On average, American billionaires saw their net worth grow 15% during the two-month period from $2.948 trillion to $3.382 trillion.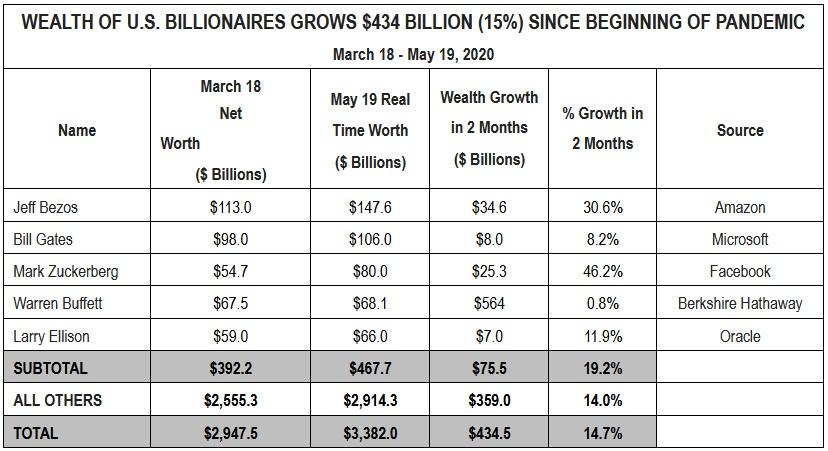 Bezos, Bill Gates, Zuckerberg, Buffett and Larry Ellison saw their wealth increase by a total of $76 billion.
"The surge in billionaire wealth during a global pandemic underscores the grotesque nature of unequal sacrifice," declared Chuck Collins, director of the IPS Program on Inequality and co-author of the Billionaire Bonanza 2020 report. "While millions risk their lives and livelihoods as first responders and front line workers, these billionaires benefit from an economy and tax system that is wired to funnel wealth to the top."
However, some billionaires haven't benefited so much:
Still, the pandemic hasn't been kind to other billionaires – whose yacht upgrades may need to wait. Those in travel and retail have taken a beating. Ralph Lauren saw his wealth drop by $100 million to $5.6 billion, while hotelier John Pritzker has seen a $34 million drop to $2.56 billion. We know, time to get a collection going.