Ralph Northam Is Descended From Slave Owners
Democrat Virginia governor Ralph Northam, caught in scandal after I published a photo from his medical school yearbook page showing a man in blackface and another man in a Ku Klux Klan hood (prompting multiple confirmations from Northam that he was in the photo), is the descendant of slave owners.
The Richmond Times-Dispatch reported in 2017:
"He recently called his father, retired Judge Wescott Brownlee Northam, to ask.
"The news that my ancestors owned slaves disturbs and saddens me, but the topic of slavery has always bothered me," Ralph Northam said in an interview. "My family's complicated story is similar to Virginia's complex history. We're a progressive state, but we once had the largest number of slaves in the union."…
Wescott Northam's father, Thomas Long Northam, also was a judge and died when Wescott was 14. All the Northams before him were farmers, Wescott Northam said. Wescott's grandfather was Levi Jacob Northam, and Levi's father was James Northam — the great-great-grandfather of Ralph Northam.
The slave schedules with the federal census in 1850 and 1860 show James Northam owned eight slaves in 1860 and nine slaves in 1850. The 1860 slave schedule listed Levi Northam with three slaves, two of whom he employed but were owned by others. The schedules listed the slaves' ages — from 1 year old to 60 — but not their names."
Times-Dispatch passage ends
Trending: Indian Scientists Discover Hydroxychloroquine Treatment Prevents COVID-19, Vindicating President Trump
Democrat Virginia senators Mark Warner and Tim Kaine, joined by Congressman Bobby Scott, offered their review of governor Ralph Northam's strange press conference in which he vowed to continue governing, despite not having any support. Northam has been undone by the "Blackface-Klan" photograph in his medical school yearbook — first published by Big League Politics.
take our poll - story continues below
Completing this poll grants you access to Big League Politics updates free of charge. You may opt out at anytime. You also agree to this site's Privacy Policy and Terms of Use.
Warner and Kaine were holding out to see if Northam could pull it together. No longer.
Joint statement from Tim Kaine, Mark Warner and Bobby Scott calling on Northam to resign: pic.twitter.com/u3Y5rqitsk

— Grace Segers (@Grace_Segers) February 2, 2019
Billionaires Have Made Half a Trillion Dollars While Tens of Millions File for Unemployment
As the number of Americans filing for unemployment approaches 40 million, America's billionaires are cruising along without any worries.
According to a CNBC report, billionaire fortunes climbed by a total of $434 billion since the middle of March,
At the top of the list are Jeff Bezos and Mark Zuckerberg, whose respective fortunes increased by $34.6 and $25 billion, according to the Americans for Tax Fairness and the Institute for Policy Studies' Program for Inequality. Zerohedge noted that both organizations came to this conclusion "based on Forbes data for America's over 600 billionaires collected between March 18 and May 19."
Tyler Durden highlighted the following stats:
take our poll - story continues below

Completing this poll grants you access to Big League Politics updates free of charge. You may opt out at anytime. You also agree to this site's Privacy Policy and Terms of Use.

Percentage-wise, Elon Musk's wealth grew 48% to $36 billion, while Zuckerberg clocked in at 46%. Bezos' wealth grew 31% to $147 billion. His ex-wife, MacKenzie Bezos, saw her wealth increase by roughly 33% to $48 billion. On average, American billionaires saw their net worth grow 15% during the two-month period from $2.948 trillion to $3.382 trillion.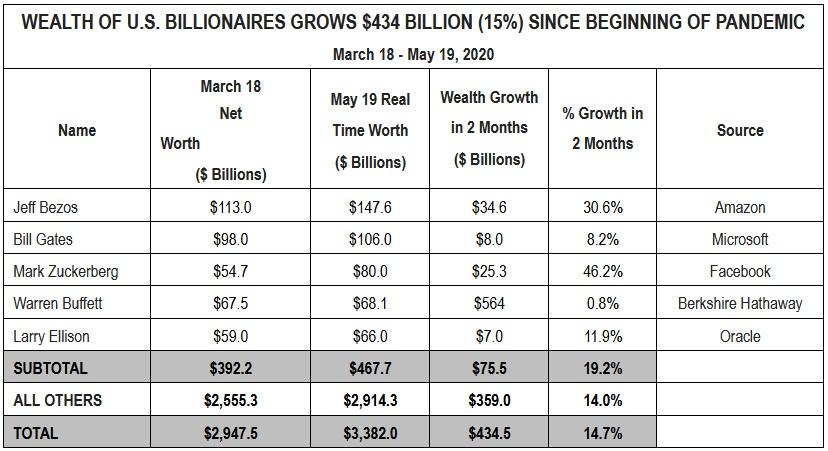 Bezos, Bill Gates, Zuckerberg, Buffett and Larry Ellison saw their wealth increase by a total of $76 billion.
"The surge in billionaire wealth during a global pandemic underscores the grotesque nature of unequal sacrifice," declared Chuck Collins, director of the IPS Program on Inequality and co-author of the Billionaire Bonanza 2020 report. "While millions risk their lives and livelihoods as first responders and front line workers, these billionaires benefit from an economy and tax system that is wired to funnel wealth to the top."
However, some billionaires haven't benefited so much:
Still, the pandemic hasn't been kind to other billionaires – whose yacht upgrades may need to wait. Those in travel and retail have taken a beating. Ralph Lauren saw his wealth drop by $100 million to $5.6 billion, while hotelier John Pritzker has seen a $34 million drop to $2.56 billion. We know, time to get a collection going.