Tucker Carlson Calls Out the Looney Left's Anti-Meat Agenda
In a recent segment of Tucker Carlson Tonight, conservative commentator Tucker Carlson claimed that the Left is "highly neurotic about food."
Carlson played clips of 2020 presidential candidates coming out in favor of reducing meat consumption to battle global warming during a climate change town hall meeting.
Kamala Harris voiced her support for changing dietary guidelines that would specifically result in the reduction of meat consumption.
Trending: Indian Scientists Discover Hydroxychloroquine Treatment Prevents COVID-19, Vindicating President Trump
Andrew Yang said reducing meat consumption is "good for the environment, it's good for your health if you eat less meat. Certainly meat is an expensive thing to produce."
take our poll - story continues below
Completing this poll grants you access to Big League Politics updates free of charge. You may opt out at anytime. You also agree to this site's Privacy Policy and Terms of Use.
Elizabeth Warren also gave her $.02, stating that "there are a lot of ways that we try to change our energy consumption … Some of it is with lightbulbs, some of it is on straws, some of it, dang, is on cheeseburgers, right?"
Carlson understands that what's at stake in this discussion is control and a desire to disrupt the natural order of human behavior.
Catch that? Elizabeth Warren says you eat too many cheeseburgers. As if it's any of her business. But that's the thing: she actually thinks it is her business. They all think that. The activist left seeks to control everything you do, including what you put in your mouth. For the last few years, they've been pushing you to eat bugs. Remember this headline from The Washington Post: "Eating bugs can help the environment." Or how about this one from the New York Times: "Why aren't we eating more insects?" Bizarre. Why would they want you to eat insects? Because it's repulsive and un-American, of course, and therefore, in the eyes of the left, it must be awesome. The more perverse and unnatural, the better. That's always been their standard.
The so-called "War on Meat" is one theater of the political correctness wars being waged in America and throughout western countries. By linking meat consumption to global warming and even white privilege, meat-eating is one of the new targets for the activist Left. There goal is to disrupt natural human behavior and impose their PC vision on everyone.
Billionaires Have Made Half a Trillion Dollars While Tens of Millions File for Unemployment
As the number of Americans filing for unemployment approaches 40 million, America's billionaires are cruising along without any worries.
According to a CNBC report, billionaire fortunes climbed by a total of $434 billion since the middle of March,
At the top of the list are Jeff Bezos and Mark Zuckerberg, whose respective fortunes increased by $34.6 and $25 billion, according to the Americans for Tax Fairness and the Institute for Policy Studies' Program for Inequality. Zerohedge noted that both organizations came to this conclusion "based on Forbes data for America's over 600 billionaires collected between March 18 and May 19."
Tyler Durden highlighted the following stats:
take our poll - story continues below

Completing this poll grants you access to Big League Politics updates free of charge. You may opt out at anytime. You also agree to this site's Privacy Policy and Terms of Use.

Percentage-wise, Elon Musk's wealth grew 48% to $36 billion, while Zuckerberg clocked in at 46%. Bezos' wealth grew 31% to $147 billion. His ex-wife, MacKenzie Bezos, saw her wealth increase by roughly 33% to $48 billion. On average, American billionaires saw their net worth grow 15% during the two-month period from $2.948 trillion to $3.382 trillion.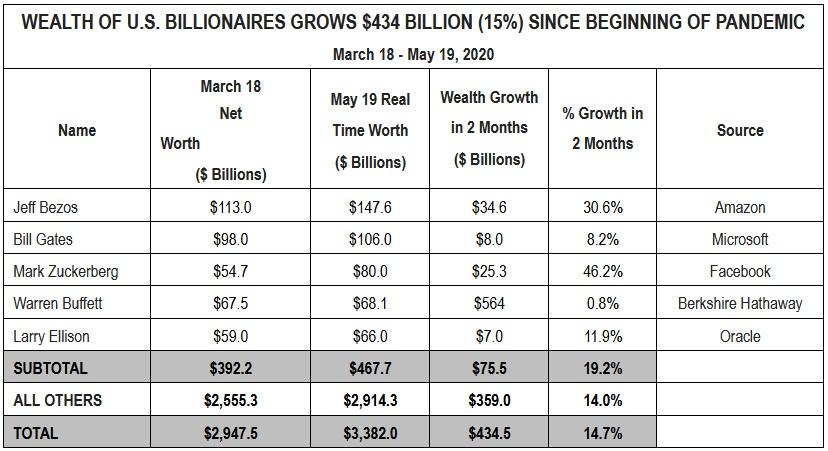 Bezos, Bill Gates, Zuckerberg, Buffett and Larry Ellison saw their wealth increase by a total of $76 billion.
"The surge in billionaire wealth during a global pandemic underscores the grotesque nature of unequal sacrifice," declared Chuck Collins, director of the IPS Program on Inequality and co-author of the Billionaire Bonanza 2020 report. "While millions risk their lives and livelihoods as first responders and front line workers, these billionaires benefit from an economy and tax system that is wired to funnel wealth to the top."
However, some billionaires haven't benefited so much:
Still, the pandemic hasn't been kind to other billionaires – whose yacht upgrades may need to wait. Those in travel and retail have taken a beating. Ralph Lauren saw his wealth drop by $100 million to $5.6 billion, while hotelier John Pritzker has seen a $34 million drop to $2.56 billion. We know, time to get a collection going.