Violent Threats Emerge From Leftists If "Kavanaugh Gets Confirmed"
First reported by Far Left Watch, a Twitter user who is followed by both Twitter CEO Jack Dorsey and the Southern Poverty Law Center's "Hate Watch" has called for violence in the streets in the event that the precedent legalizing abortion is overturned.
Suppose after these allegations Kavanaugh gets confirmed, and suppose he overturns Roe v Wade, y'all gonna be down for a violent general strike then or nah," asked Emily Gorcenski.
Trending: Democrats Move to Ban Trump Supporters From Joining the Military and Holding Federal Jobs
Gorcenski, who has 32,000 followers and is verified by Twitter, bills herself as a Data Scientist. She has a blog which has no active posts from 2018.
take our poll - story continues below
Completing this poll grants you access to Big League Politics updates free of charge. You may opt out at anytime. You also agree to this site's Privacy Policy and Terms of Use.
"Emily is an outspoken proponent of antifa and their often violent tactics. She claims to be an anarchist but also appears to be at least somewhat sympathetic to authoritarian ideologies like Communism. She also appears to be supportive of the violent antifa group that confronted and threatened Senator Ted Cruz and his family, Smash Racism DC," said Far Left Watch with the accompanying image:
A member of the Redneck Revolt, a violent far left organization led by Dwayne Dixon, a UNC Chapel Hill professor who waved a rifle at James Fields as the Charlottesville, VA, "Unite the Right" rally in 2017, said that he "didn't join Redeck Revolt for no reason," meaning that he, too, intends to become violent.
Dwayne Dixon has also been charged for assaulting BLP Editor in Chief Patrick Howley in a savage attack on the free press at an Anfita riot.
"[Redneck Revolt] promote several PDFs that endorse 'armed struggle' and even offer a 36 page 'Mini-Manual Of The Urban Guerrilla' (bottom right of resource page) which pictures left-wing militants using RPGs and outlines tactics for guerrilla warfare including sections on 'sabotage', 'kidnapping', 'executions, 'armed propaganda, and 'terrorism,'" according to Far Left Watch. 
Parler CEO John Matze Forced to Flee Home Under Deluge of Left-Wing Terror Threats
Matze is suing Amazon for deplatforming Parler.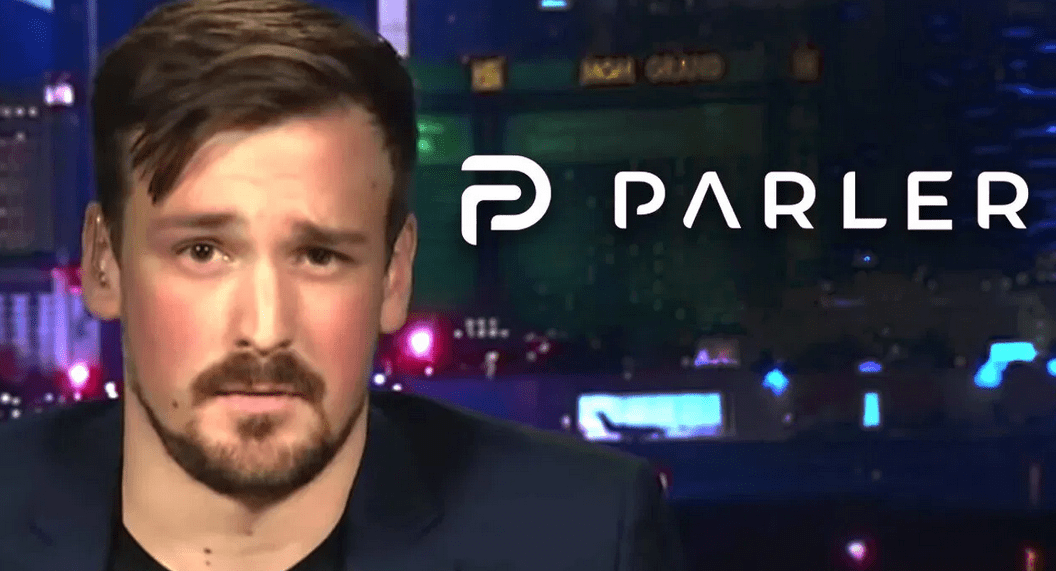 Parler CEO John Matze has been forced to flee his home and go into hiding after receiving an onslaught of left-wing death threats. Parler, a free speech social media platform, has been temporarily shut down in an extensive deplatforming campaign. Amazon promptly cut Parler's access to its Web Services after the US Capitol riot earlier this month, cherry-picking examples of content that violate Parler's terms of service and claiming the platform is being used for violent purposes.
Matze made the frank admission in a court filing for Parler's lawsuit against Amazon, requesting that the court keep any disclosures about his personal life and location secret. Parler is currently suing Amazon in federal court for its immediate revocation of Parler's hosting agreement, arguing that Amazon agreed to provide 30 days notice before any potential termination of Parler's hosting, pursuant to the party's original agreement.
Matze reveals that he's been forced to leave his home and go into hiding with his family, citing Amazon Web Services' "vilification" of his company.
take our poll - story continues below
Completing this poll grants you access to Big League Politics updates free of charge. You may opt out at anytime. You also agree to this site's Privacy Policy and Terms of Use.
Employees of Amazon have allegedly been threatened and harassed as well for shutting down Parler. The court filing in favor of redaction references these threats in requesting the court provide redaction of personal information to both sides.
"Both sides of this dispute have shown that their employees have suffered real harassment and threats—including, on both sides, death threats—owing to the charged nature of this litigation.
Parler therefore agrees with AWS that safety and security concerns justify the limited sealings requested here," Parler requests in the Amazon lawsuit.
Parler's administrators are still seeking to return the free speech social media platform to full operation, although it could take weeks to bring it back online. They may have learned a lesson about the futility of contracting hosting services with a Big Tech monopoly such as Amazon.
---
Follow me on Twitter @Wildman_AZ, on Parler @Moorhead, and on Gab @WildmanAZ.