WATCH: Rapper YG Kicks Fan Out of Concert For Refusing to Curse Donald Trump
If you're a Trump supporter, YG simply doesn't want you to listen to his music.
Rapper YG kicked a fan out of his own concert in Texas when the young man refused to say 'F*** Donald Trump' for the audience.
YG apparently first engaged with the man at some point during the concert in San Antonio, asking him if he was a Trump supporter. YG then invited him on stage, telling him that he didn't know if he wanted to shake the man's hand.
YG asked him to state his name, and then say the phrase associated with one of his well-known anti-Trump songs.
Trending: Indian Scientists Discover Hydroxychloroquine Treatment Prevents COVID-19, Vindicating President Trump
The fan nodded 'no,' and YG was quick to have him kicked out of the concert.
take our poll - story continues below
Completing this poll grants you access to Big League Politics updates free of charge. You may opt out at anytime. You also agree to this site's Privacy Policy and Terms of Use.
"Get his a** out of here! Get him out of here! F*** up out the stage! He a Donald Trump supporter, get his a** out of here!"
Watch a video of the intolerant interaction here, where YG seems to have simply picked out and humiliated a random person from the crowd for no real reason.
It's ultimately not surprising that YG chose to shame one of his own fans for being a Trump supporter, considering he has a long track record of anti-Trump commentary in his music.
But his act shows the left is strongly committed to waging cultural war against those who don't share their political and social views.
Eventually, should the left's intolerance begin to wear on their conservative neighbors, it's possible liberals will be kicked out of country music or other musical venues because they don't support Trump. Such an arrangement is inherently damaging to American national life, in that it creates a segregated culture around political lines.
YG could've simply rejected the man's seemingly milquetoast and polite decision not to curse the President without kicking him out. But he's committed to showing us just how intolerant the Left really is.
Billionaires Have Made Half a Trillion Dollars While Tens of Millions File for Unemployment
As the number of Americans filing for unemployment approaches 40 million, America's billionaires are cruising along without any worries.
According to a CNBC report, billionaire fortunes climbed by a total of $434 billion since the middle of March,
At the top of the list are Jeff Bezos and Mark Zuckerberg, whose respective fortunes increased by $34.6 and $25 billion, according to the Americans for Tax Fairness and the Institute for Policy Studies' Program for Inequality. Zerohedge noted that both organizations came to this conclusion "based on Forbes data for America's over 600 billionaires collected between March 18 and May 19."
Tyler Durden highlighted the following stats:
take our poll - story continues below

Completing this poll grants you access to Big League Politics updates free of charge. You may opt out at anytime. You also agree to this site's Privacy Policy and Terms of Use.

Percentage-wise, Elon Musk's wealth grew 48% to $36 billion, while Zuckerberg clocked in at 46%. Bezos' wealth grew 31% to $147 billion. His ex-wife, MacKenzie Bezos, saw her wealth increase by roughly 33% to $48 billion. On average, American billionaires saw their net worth grow 15% during the two-month period from $2.948 trillion to $3.382 trillion.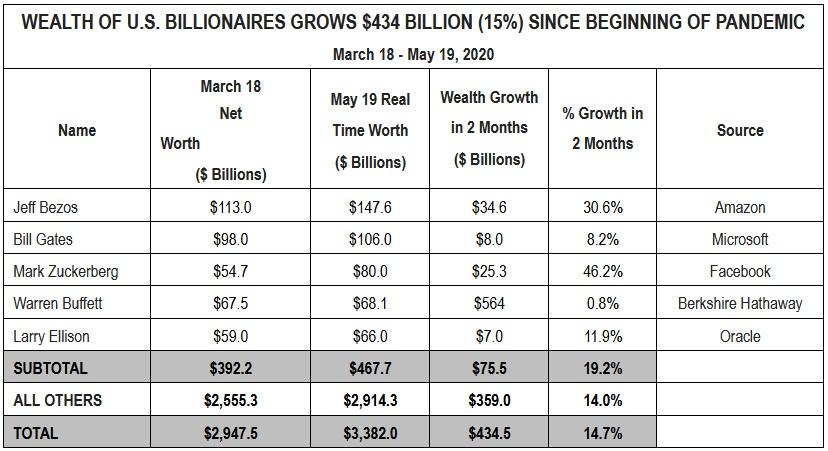 Bezos, Bill Gates, Zuckerberg, Buffett and Larry Ellison saw their wealth increase by a total of $76 billion.
"The surge in billionaire wealth during a global pandemic underscores the grotesque nature of unequal sacrifice," declared Chuck Collins, director of the IPS Program on Inequality and co-author of the Billionaire Bonanza 2020 report. "While millions risk their lives and livelihoods as first responders and front line workers, these billionaires benefit from an economy and tax system that is wired to funnel wealth to the top."
However, some billionaires haven't benefited so much:
Still, the pandemic hasn't been kind to other billionaires – whose yacht upgrades may need to wait. Those in travel and retail have taken a beating. Ralph Lauren saw his wealth drop by $100 million to $5.6 billion, while hotelier John Pritzker has seen a $34 million drop to $2.56 billion. We know, time to get a collection going.