We The People Rally Organizer's Home Vandalized After Antifa Doxxed Him
The Philadelphia man who organized last weekend's patriotic "We The People" rally had his house vandalized and a brick thrown through his window, narrowly missing his girlfriend's face.
Zach Rehl tells Big League Politics he has now been doxxed by Antifa twice, with the most recent incident resulting in an attack on his home leaving a broken window, smashed glass, and the word "Nazi" by his front door.
To provoke this, Rehl says he organized a series of "We The People" rallies in Philadelphia, Pennsylvania. According to Rehl, these rallies celebrate America, and give mainstream conservatives and young people a chance to meet each other in the Democrat stronghold of Philadelphia.
Trending: GOP Establishment Threatens President Trump with Impeachment Unless He Denies Election Fraud
Members of antifa posted fliers with Rehl's name, address, and a flimsy series of connections and half truths that purportedly proved his racist beliefs throughout downtown Philadelphia last Friday in preparation for a We The People rally, happening the following day near the historic Liberty Bell in downtown Philadelphia.
take our poll - story continues below
Completing this poll grants you access to Big League Politics updates free of charge. You may opt out at anytime. You also agree to this site's Privacy Policy and Terms of Use.
Rehl says his girlfriend, who he lives with, was sitting in the front room with another friend when the brick came flying through their window.
"It basically just missed her face by inches," Rehl told Big League Politics. "She ran right to the door to see who it was, and she saw a white pickup truck peel down the street" and the graffiti left by her front door.
"She's still a little shook about it."
Rehl filed a police report, and says he is fortunate to be on good terms with many of his neighbors who have video surveillance of their properties, which may help to identify the attacker.
Unwilling to cancel his rally, Rehl held a peaceful We The People rally the following day. However, counter protesters, who were standing near Philadelphia's National Museum of Jewish History, attacked a Jewish man after mistaking him for a member of the Proud Boys.
Parler CEO John Matze Forced to Flee Home Under Deluge of Left-Wing Terror Threats
Matze is suing Amazon for deplatforming Parler.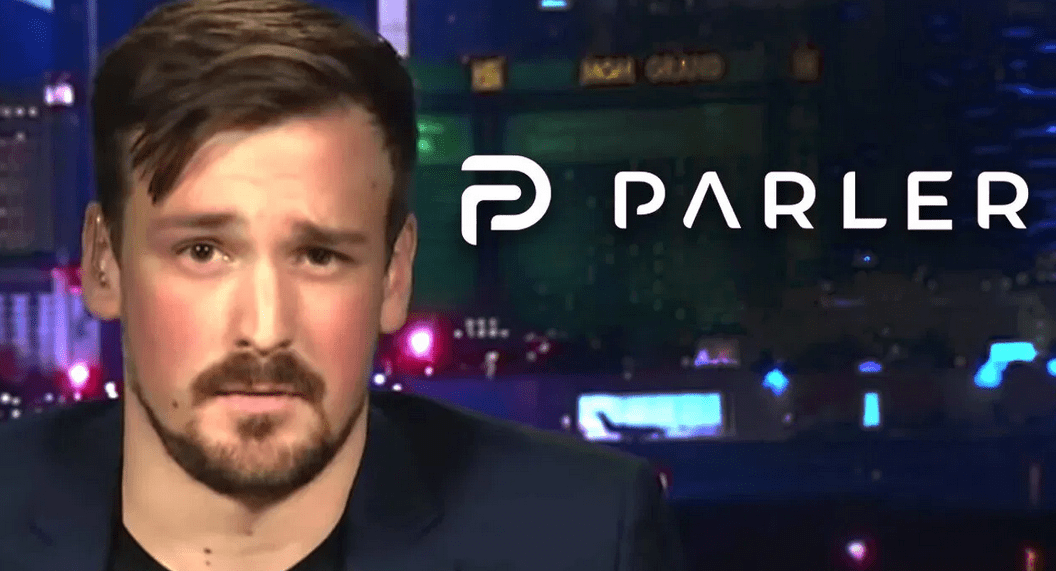 Parler CEO John Matze has been forced to flee his home and go into hiding after receiving an onslaught of left-wing death threats. Parler, a free speech social media platform, has been temporarily shut down in an extensive deplatforming campaign. Amazon promptly cut Parler's access to its Web Services after the US Capitol riot earlier this month, cherry-picking examples of content that violate Parler's terms of service and claiming the platform is being used for violent purposes.
Matze made the frank admission in a court filing for Parler's lawsuit against Amazon, requesting that the court keep any disclosures about his personal life and location secret. Parler is currently suing Amazon in federal court for its immediate revocation of Parler's hosting agreement, arguing that Amazon agreed to provide 30 days notice before any potential termination of Parler's hosting, pursuant to the party's original agreement.
Matze reveals that he's been forced to leave his home and go into hiding with his family, citing Amazon Web Services' "vilification" of his company.
take our poll - story continues below
Completing this poll grants you access to Big League Politics updates free of charge. You may opt out at anytime. You also agree to this site's Privacy Policy and Terms of Use.
Employees of Amazon have allegedly been threatened and harassed as well for shutting down Parler. The court filing in favor of redaction references these threats in requesting the court provide redaction of personal information to both sides.
"Both sides of this dispute have shown that their employees have suffered real harassment and threats—including, on both sides, death threats—owing to the charged nature of this litigation.
Parler therefore agrees with AWS that safety and security concerns justify the limited sealings requested here," Parler requests in the Amazon lawsuit.
Parler's administrators are still seeking to return the free speech social media platform to full operation, although it could take weeks to bring it back online. They may have learned a lesson about the futility of contracting hosting services with a Big Tech monopoly such as Amazon.
---
Follow me on Twitter @Wildman_AZ, on Parler @Moorhead, and on Gab @WildmanAZ.