Never Trump Opponent's Goons Harass Joseph "Joey Salads" Saladino at GOP Event
On November 6, 2019, team members of Nicole Malliotakis' campaign harassed Joseph "Joey Salads" Saladino while attending the SI GOP post-election event at The Local, a bar and grill on Staten Island.
According to the Saladino campaign, Alexandra Sherrer, a previous member of Nicole Malliotakis' staff and a long-time friend was "making extremely vulgar gestures, booing, clapping in Joey's face, and harassing Joey throughout the event." All of this took place while Nicole Malliotakis was in attendance with a member of her Congressional campaign staff at the event.
Trending: Indian Scientists Discover Hydroxychloroquine Treatment Prevents COVID-19, Vindicating President Trump
Neither of them disciplined their associate. Previously, Alexandra Sherrer was removed from Facebook for trying to share nude photos of Saladino. The candidate for New York's 11th congressional district has nearly 2.7 million subscribers on YouTube, which includes many children.
take our poll - story continues below
Completing this poll grants you access to Big League Politics updates free of charge. You may opt out at anytime. You also agree to this site's Privacy Policy and Terms of Use.
I attended the SI GOP election night party & the treatment I received from my opponent "Never Trump" Nicole's crew was disgusting.
Booing me every time I walked by, FLIPPING ME OFF & clapping obnoxiously in my face!
0 professionalism!
Her campaign is a JOKE!

— Saladino for Congress (@JoeySalads) November 6, 2019
A few months ago, BLP reported that Saladino was aggressively confronted by another Malliotakis supporter, Liam McCabe, the head of the Verrazzano Republicans at a different event. Adam Korzeniewski, Saladino's Political Director, intercepted Liam and kept him from harassing Saladino and explain to him that they were there to meet Nick Langworthy, the incoming Republican Party Chairman at the time.
Korzeniewski stated that "Malliotakis' campaign is showing a consistent pattern of engaging in intimidation efforts against Joey Saladino."
He added, "It is utterly unacceptable for a political campaign to behave in such ways. Not only does it illustrate her and her campaign's lack of professionalism, but it hurts the electoral process."
Malliotakis has lately encountered pushback for her controversial track record on conservative issues, such as her vote in favor of New York's SAFE Act, one of the most expansive gun control measures in the country.
Saladino is the 11th district's only America First candidate who will apply his working class values to Congress while also taking advantage of his vast social media following of over 10 million followers to bring prosperity to the district.
Billionaires Have Made Half a Trillion Dollars While Tens of Millions File for Unemployment
As the number of Americans filing for unemployment approaches 40 million, America's billionaires are cruising along without any worries.
According to a CNBC report, billionaire fortunes climbed by a total of $434 billion since the middle of March,
At the top of the list are Jeff Bezos and Mark Zuckerberg, whose respective fortunes increased by $34.6 and $25 billion, according to the Americans for Tax Fairness and the Institute for Policy Studies' Program for Inequality. Zerohedge noted that both organizations came to this conclusion "based on Forbes data for America's over 600 billionaires collected between March 18 and May 19."
Tyler Durden highlighted the following stats:
take our poll - story continues below

Completing this poll grants you access to Big League Politics updates free of charge. You may opt out at anytime. You also agree to this site's Privacy Policy and Terms of Use.

Percentage-wise, Elon Musk's wealth grew 48% to $36 billion, while Zuckerberg clocked in at 46%. Bezos' wealth grew 31% to $147 billion. His ex-wife, MacKenzie Bezos, saw her wealth increase by roughly 33% to $48 billion. On average, American billionaires saw their net worth grow 15% during the two-month period from $2.948 trillion to $3.382 trillion.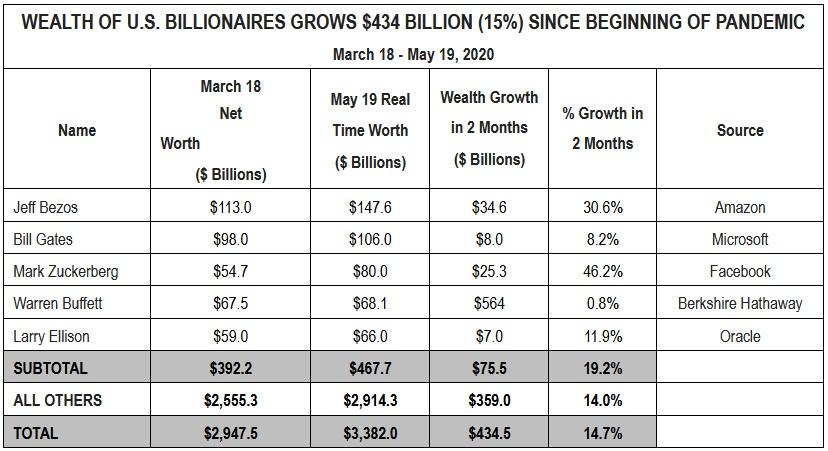 Bezos, Bill Gates, Zuckerberg, Buffett and Larry Ellison saw their wealth increase by a total of $76 billion.
"The surge in billionaire wealth during a global pandemic underscores the grotesque nature of unequal sacrifice," declared Chuck Collins, director of the IPS Program on Inequality and co-author of the Billionaire Bonanza 2020 report. "While millions risk their lives and livelihoods as first responders and front line workers, these billionaires benefit from an economy and tax system that is wired to funnel wealth to the top."
However, some billionaires haven't benefited so much:
Still, the pandemic hasn't been kind to other billionaires – whose yacht upgrades may need to wait. Those in travel and retail have taken a beating. Ralph Lauren saw his wealth drop by $100 million to $5.6 billion, while hotelier John Pritzker has seen a $34 million drop to $2.56 billion. We know, time to get a collection going.