Portland 'Abolish ICE' Group Decapitates Trump Effigy with Guillotine
First reported by Far Left Watch, a group of radical leftists in Portland, Oregon continued to fetishized violence against President Donald J. Trump.
"'Abolish ICE PDX recently held a mock public execution in which they decapitated an effigy of President Donald Trump using a makeshift guillotine," the site reported. "As we have previously reported, this theme of wishing to publicly execute ideological opponents borrows from the French Revolution and is alarmingly prevalent in far-left circles."
The group decapitated the Trump effigy while playing the song "The Guillotine" but The Coup in the background.
Trending: DNI Ratcliffe: China Interfered in 2020 Election, CIA Suppressed Info
WATCH:
We've got the guillotine. #OccupyICEPDX https://t.co/uweMVDZijN

take our poll - story continues below

Completing this poll grants you access to Big League Politics updates free of charge. You may opt out at anytime. You also agree to this site's Privacy Policy and Terms of Use.

— OCCUPY ICE PDX (@OccupyICEPDX) July 18, 2018
Underneath the guillotine, a sign read "Brick by brick, wall by wall, we will make the borders fall."
This is just the latest in a trend of radical leftists glorifying violence against political opponents, and it is not just ragtag groups of losers on the streets creating such hideous displays.
The newest cover of The New Yorker magazine depicts Trump lying dead in a pool of blood.
One of the most powerful media men in the world sent a rare tweet this morning regarding the political left's obsession with the death of President Donald J. Trump.
"The left's continued fetish for Trump's physical harm/death is stunning…" Matt Drudge said on Twitter.
The New Yorker cover photo depicts a bloody Trump falling flat on his face at the bottom of an escalator.
Just last week, a Facebook group called "Wake Up America" posted a photo depicting Trump's decapitated head with a menacing "reminder" caption. This week, a shop in Portland, OR, was forced to take down a graphic image plastered on their window depicting Trump's throat being slit.  Washed-up comedienne Kathy Griffin did a photoshoot holding Trump's decapitated headlast year which cost her what was left of her meager career.
BLP Passage Ends. 
The examples of recent violent leftist provocation alone are plentiful enough to write hefty book. With politicians like Rep. Maxine Waters (D-CA) and a rabid anti-Trump media inciting such behavior, it is no wonder these zombie political pawns in the streets are acting this way.
Hopefully things will shape up before any serious violence occurs.
Parler CEO John Matze Forced to Flee Home Under Deluge of Left-Wing Terror Threats
Matze is suing Amazon for deplatforming Parler.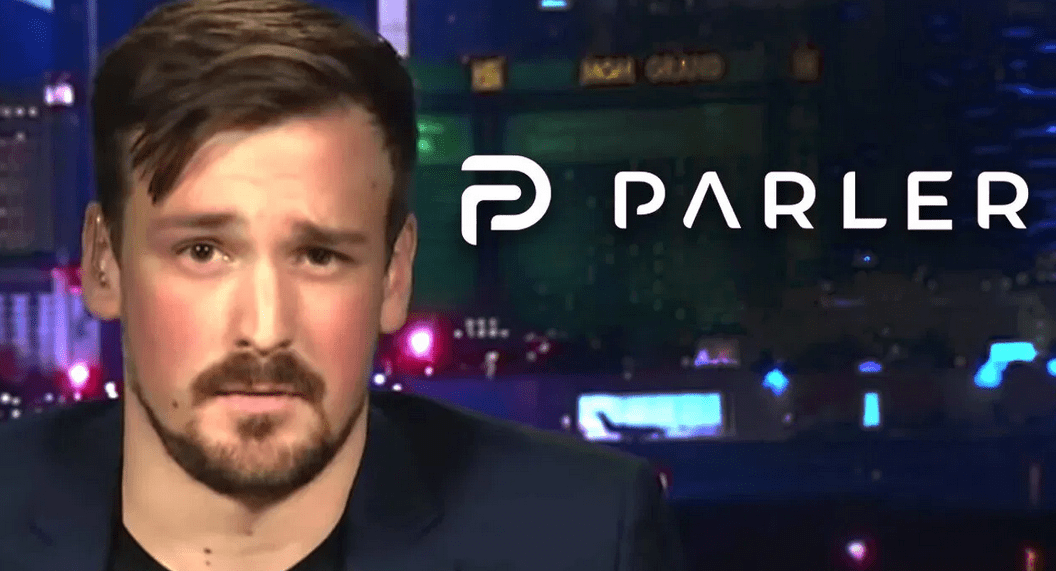 Parler CEO John Matze has been forced to flee his home and go into hiding after receiving an onslaught of left-wing death threats. Parler, a free speech social media platform, has been temporarily shut down in an extensive deplatforming campaign. Amazon promptly cut Parler's access to its Web Services after the US Capitol riot earlier this month, cherry-picking examples of content that violate Parler's terms of service and claiming the platform is being used for violent purposes.
Matze made the frank admission in a court filing for Parler's lawsuit against Amazon, requesting that the court keep any disclosures about his personal life and location secret. Parler is currently suing Amazon in federal court for its immediate revocation of Parler's hosting agreement, arguing that Amazon agreed to provide 30 days notice before any potential termination of Parler's hosting, pursuant to the party's original agreement.
Matze reveals that he's been forced to leave his home and go into hiding with his family, citing Amazon Web Services' "vilification" of his company.
take our poll - story continues below
Completing this poll grants you access to Big League Politics updates free of charge. You may opt out at anytime. You also agree to this site's Privacy Policy and Terms of Use.
Employees of Amazon have allegedly been threatened and harassed as well for shutting down Parler. The court filing in favor of redaction references these threats in requesting the court provide redaction of personal information to both sides.
"Both sides of this dispute have shown that their employees have suffered real harassment and threats—including, on both sides, death threats—owing to the charged nature of this litigation.
Parler therefore agrees with AWS that safety and security concerns justify the limited sealings requested here," Parler requests in the Amazon lawsuit.
Parler's administrators are still seeking to return the free speech social media platform to full operation, although it could take weeks to bring it back online. They may have learned a lesson about the futility of contracting hosting services with a Big Tech monopoly such as Amazon.
---
Follow me on Twitter @Wildman_AZ, on Parler @Moorhead, and on Gab @WildmanAZ.