Unlike America, Mexico Enforces Border Security by Arresting Migrants
DW reports that Mexican police arrested around 300-500 Central American migrants outside the city of Pijijiapan, Chiapas close to the border of Guatemala and Mexico.
Mexican police and immigration authorities apprehended the illegal immigrants who broke into Mexico with the goal of obtaining asylum in the United States.
This raid is one of the largest mounted against caravans since these mass migrant waves took off last year. After President Donald Trump threatened to close down the border last month if the caravans weren't detained, Mexico has responded in kind with greater enforcement.
Trending: Indian Scientists Discover Hydroxychloroquine Treatment Prevents COVID-19, Vindicating President Trump
The recently arrested migrants were members of a caravan of about 3,000 Central Americans heading towards the U.S.
take our poll - story continues below
Completing this poll grants you access to Big League Politics updates free of charge. You may opt out at anytime. You also agree to this site's Privacy Policy and Terms of Use.
ZeroHedge reports that " Thousands of Central American migrants – mostly from Guatemala, Honduras and El Salvador – made international headlines last October when they marched north through Mexico to the southern US border."
This has inspired other caravans to make a similar trek northward. who claim to be running away from violence and poverty in their respective home countries. Curiously, they refuse offers of food, shelter, and work in Mexico.
Such movements have caused trouble in the U.S. with certain border towns like McAllen, Texas being flooded by unprecedented numbers of migrants.
BLP reported on how border crossing are on the verge of exceeding Bush-era levels.
There are steep costs to mass migration coming from Third World Countries.
Europe is already witnessing this at the social level, with countries like Germany becoming host to immigrant ghettoes.
On top of that, BLP detailed how current mass migration trends from Central America are costly for U.S. taxpayers.
It's a bizarre time in politics when Mexico has more control over its border than the U.S.
Billionaires Have Made Half a Trillion Dollars While Tens of Millions File for Unemployment
As the number of Americans filing for unemployment approaches 40 million, America's billionaires are cruising along without any worries.
According to a CNBC report, billionaire fortunes climbed by a total of $434 billion since the middle of March,
At the top of the list are Jeff Bezos and Mark Zuckerberg, whose respective fortunes increased by $34.6 and $25 billion, according to the Americans for Tax Fairness and the Institute for Policy Studies' Program for Inequality. Zerohedge noted that both organizations came to this conclusion "based on Forbes data for America's over 600 billionaires collected between March 18 and May 19."
Tyler Durden highlighted the following stats:
take our poll - story continues below

Completing this poll grants you access to Big League Politics updates free of charge. You may opt out at anytime. You also agree to this site's Privacy Policy and Terms of Use.

Percentage-wise, Elon Musk's wealth grew 48% to $36 billion, while Zuckerberg clocked in at 46%. Bezos' wealth grew 31% to $147 billion. His ex-wife, MacKenzie Bezos, saw her wealth increase by roughly 33% to $48 billion. On average, American billionaires saw their net worth grow 15% during the two-month period from $2.948 trillion to $3.382 trillion.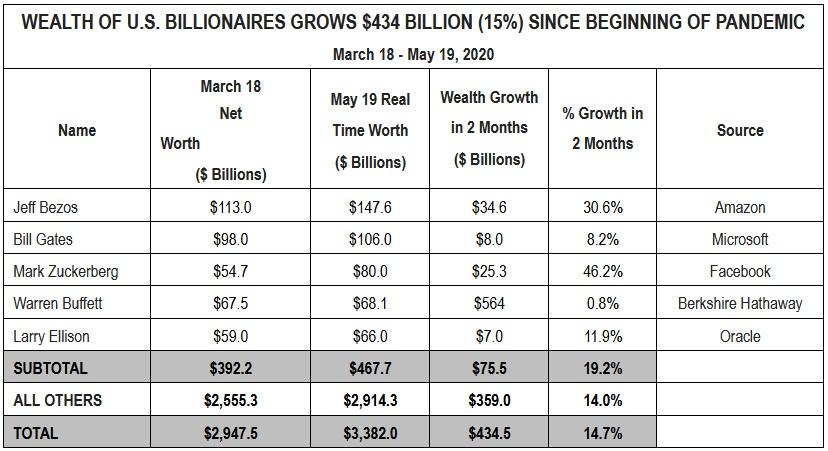 Bezos, Bill Gates, Zuckerberg, Buffett and Larry Ellison saw their wealth increase by a total of $76 billion.
"The surge in billionaire wealth during a global pandemic underscores the grotesque nature of unequal sacrifice," declared Chuck Collins, director of the IPS Program on Inequality and co-author of the Billionaire Bonanza 2020 report. "While millions risk their lives and livelihoods as first responders and front line workers, these billionaires benefit from an economy and tax system that is wired to funnel wealth to the top."
However, some billionaires haven't benefited so much:
Still, the pandemic hasn't been kind to other billionaires – whose yacht upgrades may need to wait. Those in travel and retail have taken a beating. Ralph Lauren saw his wealth drop by $100 million to $5.6 billion, while hotelier John Pritzker has seen a $34 million drop to $2.56 billion. We know, time to get a collection going.